Why and how to choose your vinyl floor?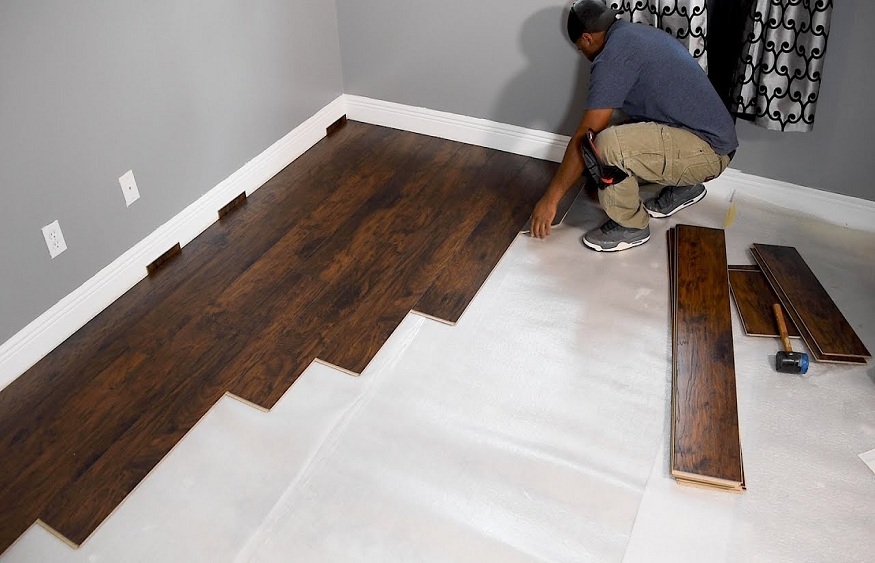 Today, the PVC floor and the vinyl floor are two identical floors in their composition and their function.
What are the benefits of vinyl flooring
Its flexibility and its natural elasticity allow it on the one hand to absorb ambient noise and on the other hand to dampen footsteps and impact noises. It also has a relative density allowing it to prevent the propagation of part of the sound waves in the ground. These properties make vinyl flooring a better sound and sound insulator than wooden floors and tiles. On the contrary, the parquet floors and tiles reverberate the waves and increase the noise of impact on the surface.
There are acoustic vinyl floors . These floors are specially designed to significantly increase the sound insulation of the room as well as the sound insulation of the floor. Layers of vinyl foam or other materials are incorporated into the liner, boosting its insulating properties .
Many French people suffer from allergies, whether it is an allergy due to dermatophagoids, rhinitis or pollinosis. Pollen and dust mites are often the cause.
The vinyl floor covering is made of anti-allergenic materials that repels dirt with formidable efficiency. Unlike rugs or carpets, vinyl flooring does not retain dust. Finally, its ease of maintenance allows it to quickly and effectively eliminate all dust and dirt that may have landed on the surface.
A light colored vinyl floor has the advantage of bringing a greater feeling of light and space to an interior. The lightness of a light color provides a soothing and soft atmosphere. Not very pronounced, these colors will tend to be easier to marry with other colors than a dark color.
A darker colored vinyl floor, meanwhile, will bring structure to an interior. A dark color enhances contrasts and therefore enhances the outlook of a room. A dark colored vinyl floor is an attractive choice for bringing character and interest to a room. Very warm, this type of flooring will make your interior more comfortable and pleasant to live in. We recommend it to revive the interiors. However, for narrow, small or poorly lit rooms,  a dark shade is not a choice we recommend.
Bring a little whimsy to your bedroom or drift away into a marine world inspired by the sea. Light blue tends to easily reflect light, it is perfect for cheerful atmospheres or for dark rooms. You can find blue vinyl flooring in plain or patterned models.
There are deeper, more refined blues. The depth and calm of these bluish colors undeniably bring their touch of appeasement to any interior. By choosing a deep blue floor, you create a unique and exceptional decorative base for your interior.
Blue is a color that invites itself into many interiors and which makes it possible to perfect many decorative styles. By choosing a blue vinyl floor, you are choosing a floor that will undoubtedly bring strong decorative value and character to your room.
Black and white vinyl flooring
The black and white vinyl floor has its own charm. Between elegance and fantasy, it fits perfectly into sleek and sober contemporary interiors . Often declined in patterns such as the classic checkerboard, it brings a lot of contrast and life to the room it decorates. Choose it for a bedroom or a kitchen. Some black and white vinyl floors consist of more elaborate and finer patterns. Between repetitions and pattern changes, the black and white vinyl floor is full of surprises. Find the one that will fit your interior perfectly.
White vinyl flooring
This vinyl floor is perfect for lovers of spacious and bright interiors. By naturally reflecting the light, the white vinyl floor tends to break the lines of the floor, thus decompartmentalising the visual space of the room. There are vinyl floors that accurately imitate white wooden floors. A few black finishes can provide interesting contrasting accents in your living room. Do not hesitate to integrate a color into your decoration to brighten up and revitalize your interior. Cherry red can thus be used for your cushion covers, chairs or for some decorative objects. You could go for a pastel blue that you could use on one or two walls in your living room.
Plain PVC vinyl floor or textured vinyl floor?
A plain PVC floor can be used in a wide variety of interiors. Depending on the decorative style, layout, and features of your room, choose a solid color that's perfect for it. A plain vinyl floor stands out by its color but above all by the consistency of this color with the overall decoration, the brightness and the size of your room…
As for textured PVC , there is an additional game of material that comes into play. Textured vinyl flooring can simulate various materials and thus give a whole new feel to a room. Here are some textured vinyl floor ideas you could look into:
Cement tiles were widely used in the past. Today, they have come back in force in our contemporary interiors with revisited and modernized imitations. The cement tile vinyl floor reminds us of the nostalgia and charm of interiors of yesteryear. It also invites us to enjoy very modern and aesthetic patterns and representations. Create a bespoke interior unlike any other. Cement tile vinyl flooring is the ideal flooring for bold, elegant, retro and modern interiors.
The imitation parquet vinyl floor
The faux parquet vinyl floor is perfect for taking advantage of the aesthetic advantages offered by a wood-look floor. At an affordable price and with unparalleled ease of installation, treat yourself to a parquet imitation vinyl floor. You don't need to invest in solid or engineered wood flooring, you can create a similar result with this flooring. It has all the advantages of vinyl flooring  and is often very realistic.